The Hai Yen is recognized Trademark " Nha Trang Salanganes' nest " for the 2nd in a row
On December 7, 2018, for the second time in a row, The Hai Yen was officially licensed by the Department of Science and Technology of Khanh Hoa Province to use the Certificate of Salanganes'Nest Nha Trang. Up to now, Hai Yen is the first and only unit in the country to be granted this certificate.
Thursday - 12/12/2019 03:16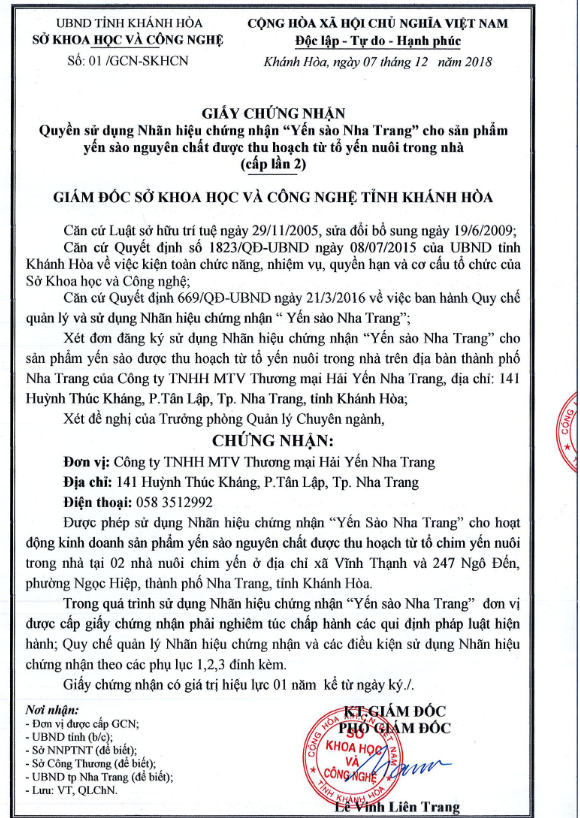 Accordingly, Hai Yen Company is allowed to use the Certification of "Salanganes'Nest Nha Trang" for trading in raw bird's nest products from domestic bird nest, harvested from one of its bird's nest houses in Vinh Thanh commune, Nha Trang city, Khanh Hoa province.
According to the regulations of the People's Committee of Khanh Hoa province, in order to be branded with the certificate of "Nha Trang Salanganes'Nest", the products of Hai Yen Salanganes' nest must meet properly and fully strict requirements about sensory, requirements for only quality standards (protein content, amino acid content, mineral content, ...), and requirements on the design and construction of bird's nest. In particular, Hai Yen will have to periodically take 01 sample / year to sample quality control at VILAS-standard laboratories.
Certification trademark "Salanganes'Nest Nha Trang" is a reputable brand of the community of organizations and individuals that exploit or raise and refine pure bird's nest products in Nha Trang city, Khanh Hoa province. . The right to use the trademark of Nha Trang Salanganes'Nest officially granted to Salanganes'Nest products is a recognition worthy of Hai Yen's continuous efforts during the past 5 years. Pride called Salanganes'Nest Nha Trang has also found solid wings to be able to reach far reaching the international market.
Quality of salangane's nests in Nha Trang is appreciated by experts . Because it is a particular geographical area. Salanganes make nest with their own saliva. Each day they secrete a little saliva, spun back to the nest. After a while, the nest is dry and it looks like the ears firmly attaching the cave ceiling with a difficult terrain. This created best Salanganes' nests with characteristic odour.
Hai Yen is the first unit in the country to be granted the logo to identify "Nha Trang Salanganes'Nest". And this is the second consecutive time The Hai Yen has received this noble honor. With this certification, Salanganes'Nest products once again affirmed the quality, prestige, class and ready to represent the local Salanganes's nest products, introducing them to international friends.