1. GENERAL INTRODUCTION
The Hai Yen is an enterprise rising from the start-up movement, specializing in manufacturing, trading and exporting products of 100% natural origin, serving the needs of health care and maintaining youth. of human.

The key products include: bird's nest, cordyceps, turmeric starch, Ganoderma ... using modern technology processes combined with traditional Vietnamese crafts, refrigerated, no chemicals and preservative.

With the scale of a small business, but from genuine values and relentless efforts, The Hai Yen is recognized in almost every event ever attended. The list of achievements of The Hai Yen does not lack great imprints at home and abroad.

In particular, in the last 2018, The Hai Yen for the second time in a row was granted the right to use the trademark "Salanganes'Nest Nha Trang" by Khanh Hoa Department of Science and Technology in Khanh Hoa Province to affirm the prestige and quality of the products. products of THE HAI YEN.

2. FORMATION AND DEVELOPMENT
THE HAI YEN was established on July 24, 2013 in Nha Trang (Khanh Hoa, Vietnam). Five years of continuous improvement and expansion, now The Hai Yen has 5 showrooms and a network of hundreds of domestic and foreign distribution agents.

Thanks to continuous improvement and application of new science and technology in production, THE HAI YEN products ensure quality, popularity in the country and meet export standards abroad.

2018 is the year marking the first and official step of The Hai Yen to be distributed in Taiwan market, after undergoing a series of tests according to the standards of this famously fastidious country.

While the world so far only known bird nests originating from Malaysia or Indonesia (accounting for 65% market share), THE HAI YEN is gradually bringing the brand of Vietnam Salanganes'Nest introduced to numerous national friends. Health and proof Salanganes'Nest Nha Trang (Khanh Hoa) is one of the best quality bird nest products in the world.
3. THE TITLE AND PRIZE
2013: Establishing a business and completing all legal documents, food safety certification
6/6/2014: Certificate of "Genuine brand" was obtained. According to Decision No. 17-2014 / QD-TB Intellectual Property Institute of International Certification products Salanganes'Nest Nha Trang Nha Trang certified Genuine brand - Genuine brand 2014 TRUSTED BRAND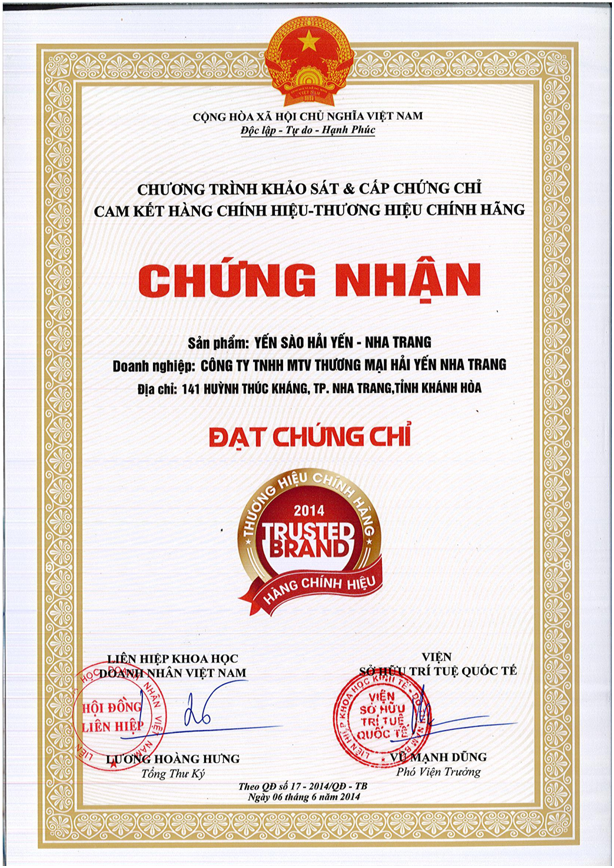 August 15, 2014: Vietnam Food Institute Trusted VNPACO awarded the title of VIETNAM TRUST FOOD IN 2014 for the products of Salanganes'Nest Nest in Nha Trang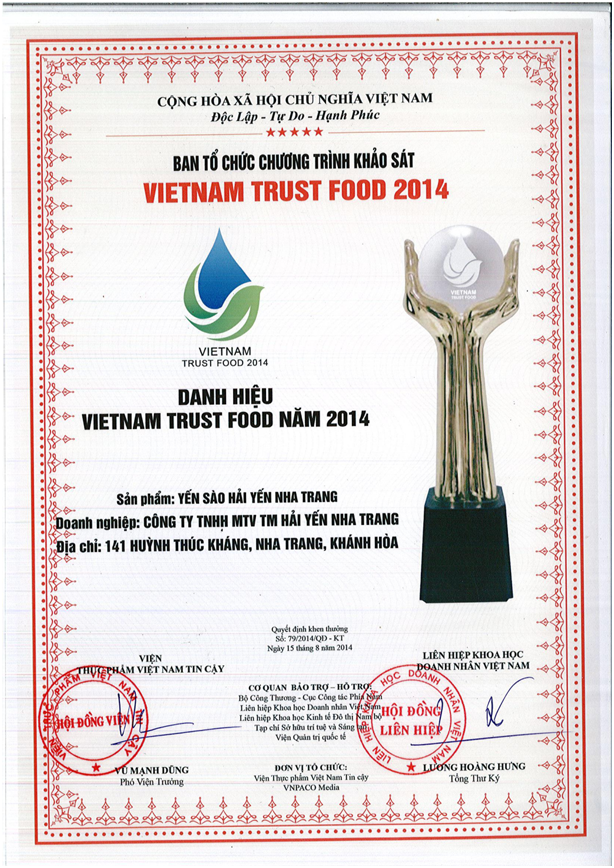 January 17, 2016: Top "100 SUSTAINABLE VIETNAMESE BRANDS IN 2015" by the Ministry of Science and Technology and Vietnam Union of Science and Technology Associations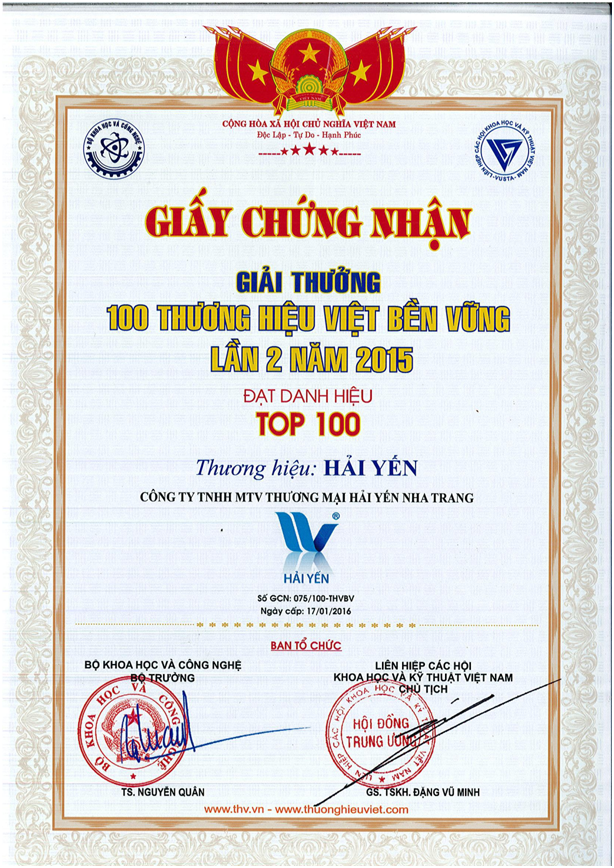 11/21/2016: The company's original Salanganes'Nest and Preliminary Salanganes'Nest products have been evaluated and complied with the requirements of the standard: Food Safety Management System ISO 22000: 2005 (ISO 22000: 2007 )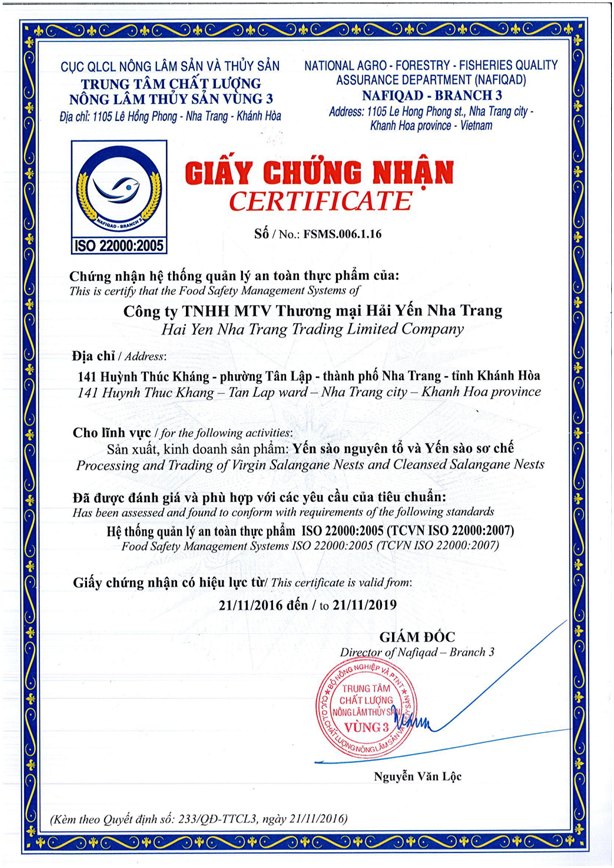 March 31, 2017: Awarded the right to use the Certification of "Salanganes'Nest Nha Trang" to pure bird's nest products from domestic bird nest, awarded by the Director of Khanh Hoa Department of Science and Technology (based on Decision No. 669 / QD-UBND dated March 21, 2016 promulgating the Regulation on management and use of certification mark "Salanganes'Nest Nha Trang")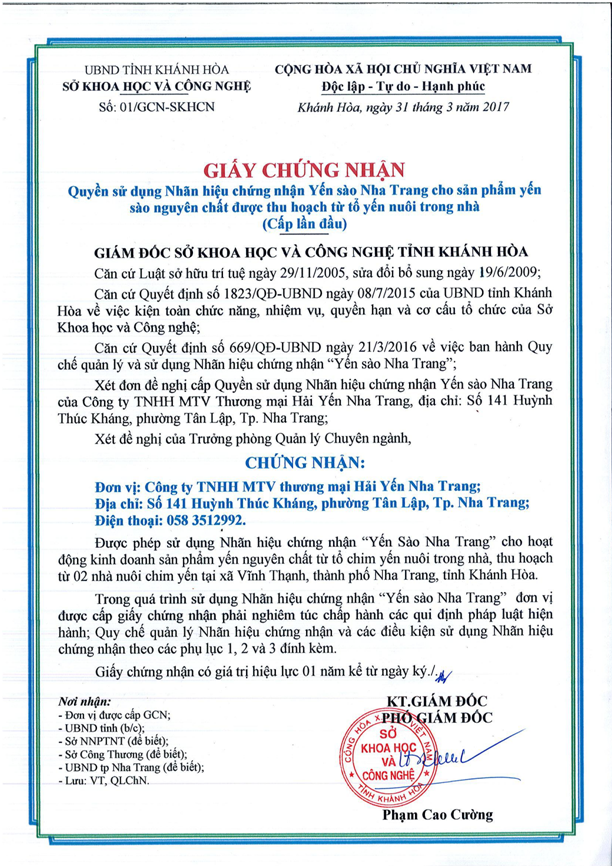 June 30, 2018: Signing a technology transfer contract with Ces Plasma Energy and Environment Technology Co., Ltd. on market promotion of raw bird's nest products, refined white bird's nest and research process preliminary processing technology for bird's nest.
7/12/2018: Continue to be entitled to use the trademark "Salanganes'Nest Nha Trang", becoming the second time in a row to use the prestigious and highest quality brand of Nha Trang Swallow's Nest for products his bird's nest.
4. DOMESTIC AND INTERNATIONAL EVENTS
Domestic
August 28 - September 1, 2015: Participating in the Southeastern Agricultural and Trade Fair in Phan Thiet, introducing and promoting the image of Khanh Hoa Salanganes'Nest, meeting, exchanging and exchanging cooperation with businesses; transfer of technical advances and expand the product consumption market.
April 19 - April 22, 2017: Vietnam EXPO International Trade Fair 2017 in Hanoi.
March 5, 2017: Scientific Conference, Scientific and Technological Handover Conference of the Southern Central and Central Highlands Provinces, XIV in Da Lat, exchanged with Deputy Minister of Science and Technology Mr. Tran Quoc Khanh ; Mr. Pham Cao Cuong - Deputy Director of Khanh Hoa Department of Science and Technology; Mr. Nguyen Duy Bac - Vice Chairman of Khanh Hoa Provincial People's Committee.

June 30 - July 3, 2017: Attended the Khanh Hoa Agricultural Market 2017 in Yen Phi Park - Nha Trang.
November 9 - November 13, 2017: Exhibition "High-tech Agriculture and Technology Market - Food Processing Equipment 2017" at Le Van Tam Park, Hai Ba Trung Street, District 1, TP. HCM
June 28 - July 1, 2018: Attending the Exhibition and Conference "Science and Technology of Agricultural Development in the South Central Coast - Central Highlands 2018" at Love Stadium, Nha Trang
11/12/2018: Sponsoring the Workshop on "Start up the application of science and technology in the Southwest region and Ho Chi Minh City" in Ho Chi Minh City. HCM on December 11, 2018.

International

May 12, 2017: Participating in TAITRA B2B Trade Fair - Taiwan Trade Promotion Association, introducing the flagship product of THE HAI YEN, received many invitations to invest in investment to export products to Asian market.
September 22, 2017: Participating in the MSR-EXPO 21st Century Silk Road International Fair in Dongguan City - Guangdong Province - China, introducing the image of Salanganes'Nest - a local specialty friends all over the world
1-5 December 2017: As the only Vietnamese representative in the field of bird's nest to attend the International Agricultural Product Fair in Zhengzhou city (China), bringing nutritious and healthy health care products with pride Vietnam Salanganes'Nest introduced to Chinese and international consumers
August 24 - August 27, 2018: The only representative of Vietnam to participate in the 26th International Import Fair in Guangzhou (China Import and Export Fair Complex), introducing Nha Trang Salanganes'Nest products
October 24 - October 28, 2018: Participating in the International Fair in Kaohsiung, Taiwan, introducing the dried nest feather nest products to meet export standards and meet the tastes of Taiwanese people. Malaysian experts highly appreciate the engineering.
November 20, 2018: Participate in the Vietnam - China Trade Promotion Conference (Trung Son City - Guangdong Province China) 2018, meeting the Secretary of Ho Chi Minh City. Zhongshan.